Social Media Dashboard (Featured on KickStarter)
---
Introduction to Social Media Dashboard
Social Media Dashboard does exactly what it says on the tin. It is a Social Media Dashboard for managing all of your social media accounts. This project was originally a University project, but me and my good friend Jack Rimell decided to carry on working on the app in our spare time outside of University. After 3 months of development, we had quite a stable project so we decided to Kickstart this project to see if anybody else was interested in it. We want to turn our prototyped web application into a real mobile app, but unfortunately our KickStarter campaign failed so we didn't have the funding to continue developing the app. The app is currently still used by me just over a year after developing it, so there definitely is a possibility that I may continue working on it in the future. If you'd like to read more about the project, you can visit the archived KickStarter campaign page for SocialMediaDashboard.
Features of Social Media Dashboard
Quickly manage multiple Social Media accounts including: Facebook, Twitter, Instagram, Google Plus, and Foursquare – all from one app.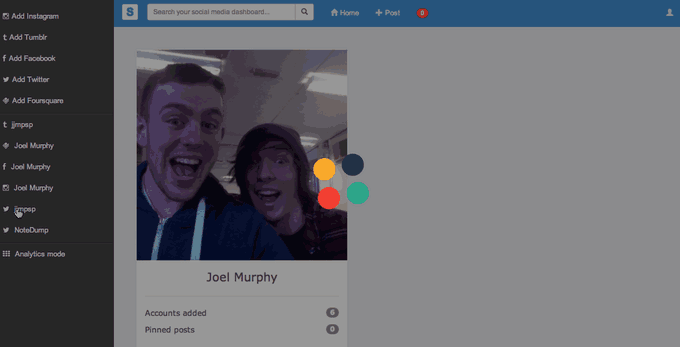 Screen recording of Social Media Dashboard.
---
---
More Project posts:
---
Share your thoughts on: 'Social Media Dashboard (Featured on KickStarter)':
👀 Looking for more content?
There's plenty more content to explore: